Pregnancy journey is the most beautiful one and every woman love to cherish this phase of their lives. In Indian culture, the baby shower ceremony holds an important significance and is known as godh bharai. If you are going to be a mom soon then here are some of the most stunning Indian baby shower dresses ideas that you can take into consideration.
Latest Indian Baby Shower Dresses and Outfits
1. Kanjivaram Silk Saree for Baby Shower Ceremony
For any auspicious occasion, silk sarees are the best outfit. If you are going to be a mom soon and looking for a stunning saree for baby shower then you can consider wearing a rich red Kanjivaram saree. You can sum up the look with all gold jewellery and do add a nice belt to get the most beautiful finished saree look.
2. Satin Gowns for Mom-to-Be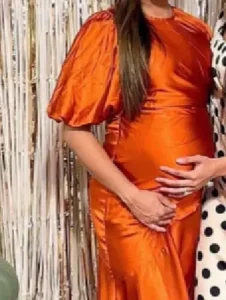 One of the most important aspects during pregnancy is comfort. Satin gowns are the most comfortable outfit for all mom-to-be. With minimal makeup and straight hair you can rock your baby shower look.
3. Velvet Trail Gown for Godh Bharai Ceremony
These days light weight velvet fabrics are quite in trend. You can opt for a light weight velvet trail gown for godh baharai function. An off shoulder flared velvet gown perfectly displays the baby bump. You can accessorize the look with a sleek choker necklace.
4. Floral Gown for Mom-to-be
If you want your baby shower dress to be very casual and cool then you can think about floral gowns. You can always amp up the look by adding a floral tiara and some nice make up.
5. Chiffon Saree for Indian Baby Shower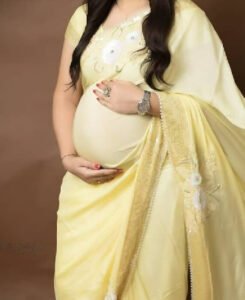 For a traditional style baby shower, you can choose this type of light weight chiffon saree. This type of border sarees is extremely comfortable to carry and also looks very elegant.