There are lots of festivals that will arrive soon. During Indian festivals like Raksha bandhan, Ganesh Chaturti, Durga Puja, Navratri, Karva Chauth, Diwali, etc, women love to dress up in sarees. To look wow during the festivities, they all make prior preparations and one of the most important things to do is getting a nice and latest blouse design stitched for their sarees. In this blog post we have presented all the stylish blouse designs for wedding and festivals.
Latest Blouse Designs for Festivals and Wedding
These days women wear ethnic wears only during specific occasions and hence they search out for the latest blouse designs so that they can look the best. If you are looking for some exclusive designer blouses for sarees for festivals then check out the below given options.
1. Collar Style Square Neck with Floral Patterns and Frill Sleeves
Those who are looking for an exclusive designer blouse for festive sarees can consider this one. It's a unique square collar blouse with rectangle cut out back design. There are beautiful floral patterns on the collar and the sleeves part.
2. Marigold Pattern Blouse with Cut Out Back Pattern
One flower that is considered very pious for Indian festivities and worshipping is the marigold flower. Hence if you are looking for some traditional marigold pattern blouse for festival sarees then you can check out this stunning marigold pattern blouse for saree with beautiful cut out back pattern.
3. High Neck Blouse with Keyhole Design on Front and Back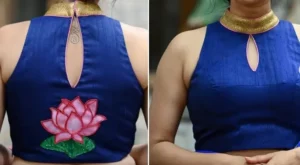 If you are looking for a stylish saree blouse but with minimal detailing then you can choose this type of minimalist blouse. It's a sleeveless blouse with high neck collar which have a statement golden detailing. The keyhole pattern is both at the front part as well as the back portion. The lotus design is the highlight of this blouse back design.
4. Halter Neck Blouse with Tie Up Back Design for Wedding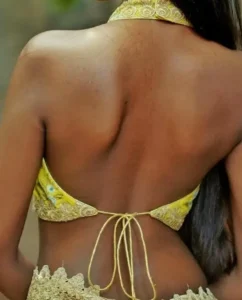 The wedding season is also about to come and if you are looking for some stylish blouses for lehenga and sarees then check out this one. This is a trending halter neck printed and embroidered blouse with backless pattern, apt for bot saris and lehenga.
5. Colourful Angrakha Style Blouse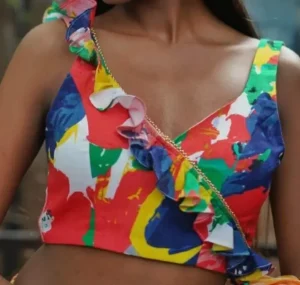 It's the era were women love simple and plain sarees paired up with heavy or colourful blouses. This colourful blouse is perfect to be paired with any solid colour plain saree or border saree. It's a multicolour blouse with angrakha pattern and frill design.