Sarees are still one of the most loved outfits by any Indian women or girl. No matter what age you are, a saree never stops to impress you. Well, in the modern times, women love pairing their sarees with designer blouses. Patterns like balloon sleeves blouse, boat neck blouse, puff sleeves blouses, are trending these days. Let's check out some of the most stunning designer blouses for sarees.
Designer Blouses For Sarees
1. Polka Dot Puff Sleeves Blouse with Square Neck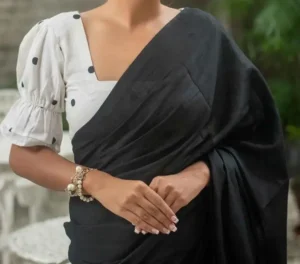 The polka dot or you can say the retro fashion will never go out from the Indian ethnic wear trends. This designer blouse will make any solid colour saree stand apart from the crowd.
2. Solid Black Bell Sleeves Blouse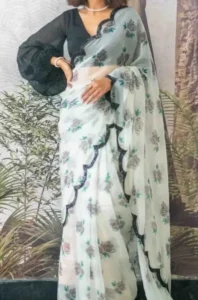 With these kinds of statement sleeves, you can rock any basic simple saree look also. Want to try this style? Please do!!
3. White Pearl Blouse
Pearl blouses in itself looks so royal that it can make any basic saree look like the most gorgeous one.
4. Sunflower Hand Embroidered Blouse Design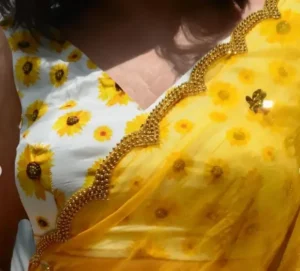 If you want to give a unique look to any basic saree then you can try pairing up the sari with this kind of designer blouse were there are beautiful and embroidered sunflower designs.
5. Cape Sleeves Blouses for Saree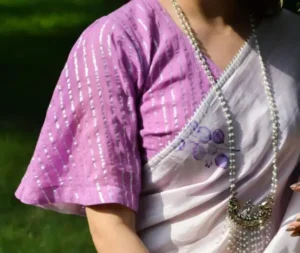 Any solid colour blouse with silver stripes detailing is perfect to go with any silver embroidered saree. The highlight of this designer blouse is its cape style sleeves.
6. Close Neck Statement Blouse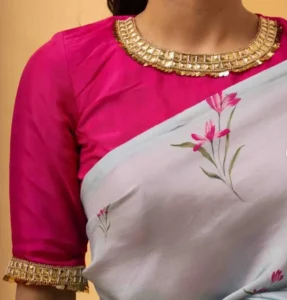 This type of solid blouses having statement work on the neck and the sleeves part adds on to the category of designer blouses. These types of blouses are multipurpose and can be worn out with so many colours sarees, lehengas, ethnic skirts, etc.
7. Multicolour Floral Blouse with Frill Sleeves
Every woman must have a multicolour blouse in her closet that she can style with any colour saree. This floral blouse can be the perfect blouse that you can mix n match with any and every saree.
8. Solid Mustard Blouse with Designer Back Design
It's not always that a blouse design has to be unique to be called designer ones, sometimes the most basic one but with an attractive back design can also be counted as a designer blouse.