Every year you will find latest blouse designs coming into the market. Women who love to create different saree looks loves to invest in different types of blouses like silk saree blouse designs, pattu saree blouse designs, half saree blouses etc. In tis blog post we have posted some of the classic evergreen blouses that you must have in your fashion closet as they can be easily mix n matched with various sarees.
Latest Designer Blouses for your Sarees
Designer blouses have a unique appeal which makes your saree look stand out. Check out some of the stunning saree blouses below:
1.Pattu Saree Front and Back Blouse Designs
Pattu sarees are the most graceful ones, in order to increase the elegance of a silk saree you can pair it up with a choli cut blouse. Stripes pattern choli cut blouse with a V cut front and back gives a very finished look.
2. Simple Blouse Designs for Silk Sarees that Looks Elegant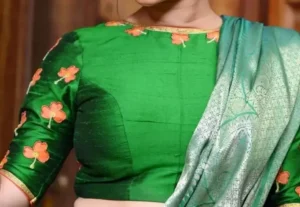 If you are someone who loves to try out new blouse designs but also not comfortable having deep necklines, they can try out this type of boat neck blouse with oval shape cut out back with tie up closure.
3. Classy Plain Saree with Designer Blouse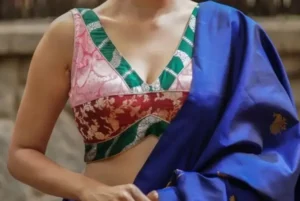 Women love wearing plain saree that are easy to wear and carry. These sarees give a statement look when paired with designer blouses. Try out this type of multicolour brocade sleeveless blouse with v neck back.
4. Unique Banarasi Saree Blouse Designs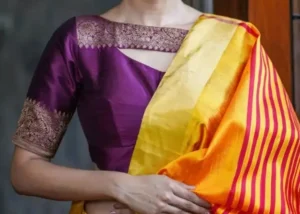 Solid colour blouse with border work on the sleeves part as well as on the front and the back neck adds wonder to any saree look. Tis one is a unique blouse with boat neck pattern and cut out portion on bot front as well as back.
5. Trendy cotton saree blouse designs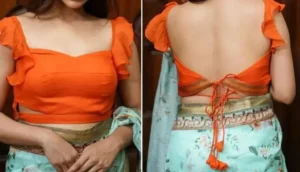 Most of the women may avoid wearing cotton sarees because of it simple look but with these types of stylish blouses everyone will love wearing cotton sarees. Stylish ruffle sleeves with cut out pattern from the front and back makes this one a trendy blouse for cotton saree.
6. Modern Banarasi Silk Saree Blouse Back Neck Designs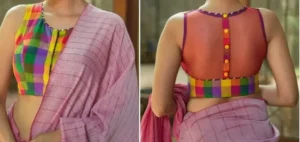 If you want a stylish blouse for your pattu saree then you can consider this type of pattern. It's a multicolour check pattern sleeveless blouse with sheer back button closure.
7. Plain Cotton Saree Blouse Designs
There are almost endless designs in blouses; it's all about creativity in the design and the confidence of a woman to carry the look. This is quite and elegant as well as stylish blouse for cotton saree.
8.Bangle Design Sheer Back Net Saree Blouse Designs
Those who are looking for a stylish back neck blouse for net saree may consider opting this ultra-glam blouse.
9. Paithani Saree Floral Blouse Design
If you want a classic look in your paithani saree then opt for this type of raw silk floral design Peter Pan collar blouse with oval shape closure at the back.
10.South Indian Half Saree Blouse Designs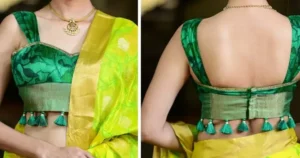 Give a balanced modern and traditional look to your half saree by choosing this type of strappy blouse with piping and tassels detailing.