Women seek a lot of fashion inspiration from their favourite Bollywood actresses, especially when it is about wedding lehenga. Whether it's a Bollywood actress lehenga worn in any of the movie like the latest Alia Bhatt had worn in the Rocky aur Rani movie or in real life functions, girls want to copy all the best designs of the celebs. In this blog post we have presented all the latest Bollywood lehenga designs that you can seek inspiration from for the upcoming wedding season.
Latest Bollywood Actress Lehenga Designs
1. Alia Bhatt Bridal Lehenga in Rocky aur Rani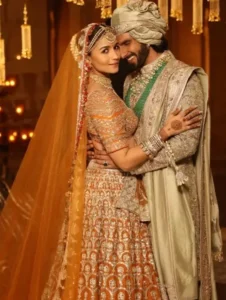 If you are bored of the reds and the pinks then try out this unique colour brunt orange. This brunt orange lehenga with silver intricate embroidery is something new that bride-to-be can try for their wedding.
2. Sara Ali Khan Minimalist Red Lehenga with Full Embroidered Dupatta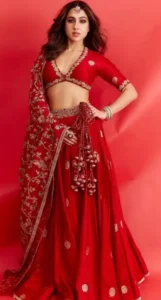 Many brides love minimalist bridal lehenga for their wedding, this Bollywood lehenga design is perfect for such brides. The lehenga blouse design is in choli cut style with work only at the borders, the lehenga skirts have beautiful circle patterns scattered at distance.
3. Janhvi Kapoor Mint Green Lehenga Design for Wedding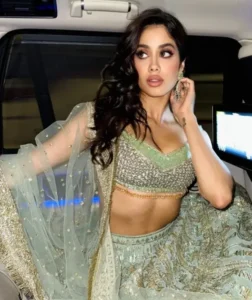 For those who are looking some cool Bollywood actress lehenga designs in pastel shades can check out this one. This one worn by Janhvi Kapoor looks absolutely stunning in mint green colour with beautiful silver embroidery all over.
4. Aaliyah Kashyap Engagement Lehenga
Those who are looking for English colours with muted colours embroidery or detailing may check out this beautiful lehenga worn by Aaliyah Kashyap for her engagement function recently.
5. Designer Shraddha Kapoor Lehenga
Those who love to set trends with whatever they wear must check out this unique style lehenga. This doesn't come with a dupatta instead has a statement ponchu kind of a feather cape which is taking the entire lehenga look to a notch higher.