India is one such country where people love to celebrate each and every occasion. One of the most important occasions for a mother is the arrival of her child into the world. Just 2 month before the arrival of the baby, Godh Bharai or Baby Shower is kept wherein people shower the blessings to the mother and the unborn. The would-be-mother is treated with lavish food and gifts. She is dressed up in beautiful attire, some celebrate Indian Baby shower wearing traditional godh bharai outfits like sarees, lehenga or salwar kameez, sharara, palazzo suit, whereas some celebrate it wearing beautiful dresses. Let's check out some of the most trending Indian baby shower dresses.
Godh Baharai Dress Ideas
1. Banarasi Saree for Godh Baharai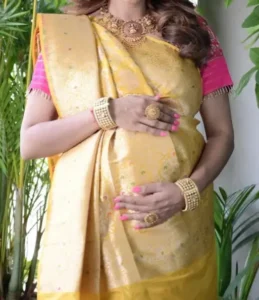 Silk sarees are a must in any Indian traditional function and thus a nice Banarasi or Kanjivaram saree for Indian baby shower is a must. Watch out how beautifully Bipasha Basu have worn the silk saree and styled it with temple jewellery for her Bengali baby shower.
2. Maroon Anarkali Kurta with Dupatta for Baby Shower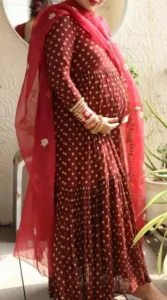 The last few months of pregnancy are anyways tough as the mother gains a lot of weight and she actually struggles to do her daily routine work as well. In such a scenario, the best godh bharai outfit is a full flared anarkali with dupatta. Here check out how TV celeb Debina has styled her anarkali dress for her godh bharai.
3. Designer Saree with Statement Jewellery Piece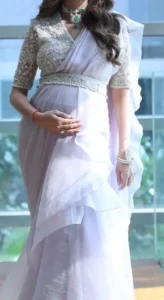 If you don't like to get dressed in deep and bold colours then you can choose pastel colour outfits for Baby Shower. If you are someone who doesn't want a traditional baby shower dress then you can choose this type of designer gown type of saree styled with statement jewellery pieces.
4. Yellow Pant Suit with Dupatta styled with Kundan Jewellery for Godh Bharai
Yellow is considered very auspicious colour in Indian culture. Whether it's a traditional godh bharai function or a western type of Baby shower ceremony, wearing anything in yellow would be a great idea. Check out how Alia Bhatt has styled a simple yellow suit with kundan jewellery for her godh bharai ceremony.
5. A Nice Flared Dress
One of the most comfortable dresses during pregnancy is the flared long dresses. They are easy to wear and give the best shape to the baby bump. If it's an Indian style function ten you can opt for ethnic long flared dresses, if it's a western style ceremony then you can choose western style flared dress.