Saree styling is an art which only a few can ace. One can look extremely beautiful in an affordable basic saree as well whereas one can also look extremely disastrous in the most expensive sari, everything depends on the styling. Now when we talk about saree styling we cannot forget to mention a white blouse as it can be used with so many different sarees. In this blog post we have presented different ways on how to style a saree with white blouse.
Saree Styling with White Blouses
1. White Shirt Style Chikankari Loose Blouse Paired with Indigo Saree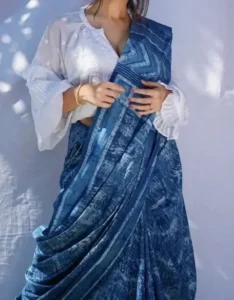 For a cool and casual look, you can also wear a shirt style white chikankari blouse with an indigo print saree. To give a more casual vibe to the look, you can also add white sneakers.
2. White Bell Sleeves Hakoba Blouse with Saree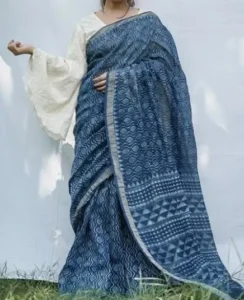 Hakoba blouses are very much in trend these days. You can pick any colour saree and style it with this type of statement blouse and give a royal look to your basic sari.
3. White Sleeveless Blouse with Handloom Saree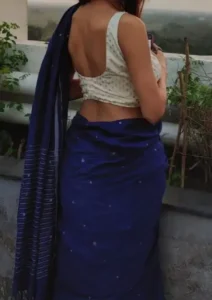 Women who love to wear sleeves blouse, they can pair any color handloom saree with a chic white sleeveless blouse. You can opt for a deep back neck design with a tie up back and get the coolest look ever.
4. High Neck Frill Style White Blouse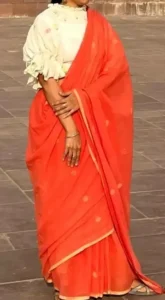 The beauty of a white blouse is such that you can pair it with any colour saree and stand apart from the crowd. This one is a beautiful high neck blouse with frill design on the neck as well as on the elbow sleeves. There are small floral embroidered patterns done on the blouse to add a little pop of colour.
5. Crosia Stitched White Blouse in Spaghetti Style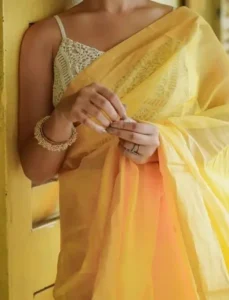 Every girl has a white crosia top in their fashion closet to pair up with their denims. Now you can use the same top as a blouse and pair it with any solid colour saree and watch out for the number of compliments you receive.
6. Puff Sleeves White Blouse with Mehendi Green Saree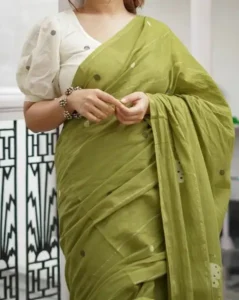 Women with sleek arms can go for this option. Styling a white puff sleeves blouse with a meendi green saree is a cool option. You can check out the image to get a better idea about the kind of look you will get.