Saree blouses are very important and they can really bring out the best from even the most basic sari as well. The blouse back designs are the game changer of any saree look and that's the reason why the demand for the trending blouse back neck designs is always high. In this blog post we have listed the latest blouses for saree, please have a look:
Stylish Blouse Back Neck Design Images of this Year
The blouse fashion keeps on changing from year to year but some designs are evergreen. Blouse designs like collar neck, u cut, V cut, deep back, etc are some classic that will always be in trend. Apart from these designs there are many such patterns that keep on coming into fashion. Let's have a look at the latest blouse designs of 2023:
1. Double Tie Up Back with Tassels and Bangle Hanging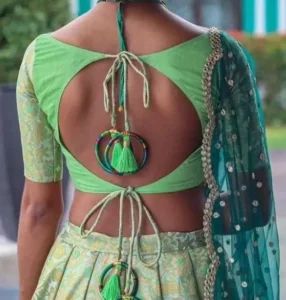 Choli style back tie up blouses are very much in demand, especially during the season of Navratri. Women love to wear stylish cholis and dance at garba nights. This latest blouse back design is certainly stunning and will give your saree and lehenga a unique look.
2. Mirror Work Cut Out Back Design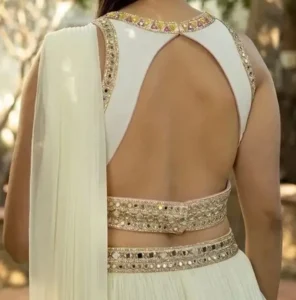 Mirror work blouses are in trend since a very long time. Opting for a solid blouse with mirror work border with a beautiful cut out design adds wonder to the look.
3. Frill Sleeves wit Ribbon Tie up Back
This one is such a pretty blouse design image were in you get beautiful sheer frill sleeves. This one is a back closure blouse with ribbon closing with a bow.
4. Keyhole Back Blouse Design
Women who love simple blouse design but with a unique look as well; they can choose this type of long keyhole back blouse.
5. Collar Neck Blouse with Pearl Border Cut Out Back Design
Those who love to get a very sophisticated blouse look with a collar detailing can get a perfect balanced look with this type of cut out back design with pearl border.
6. Triangle Blouse Back Neck Design wit Bow Detailing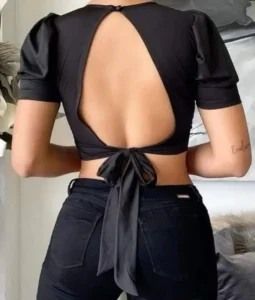 Some love the stripes blouse with their plain sarees. This one is a cool stripe blouse with a very interesting back design. The back has a triangle look with the knot closure.
7. Latest Trending Blouse Back Design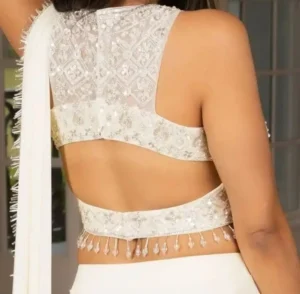 Those looking for the latest contemporary blouses for saree may choose this type of saree blouse. This one has a lovely back design which can make you look apart from the crowd.