These days blouses play a major role in defining the overall look of a saree. Infact, it's a great option to invest in a good quality blouse that you can mix n match and wear with several other colour sarees as well. In this blog post we have shared all the details about which blouse suits which colour saree, let's have a look:
Which Blouse Suits for Yellow Saree
There are many colour blouses that can look good with a yellow saree. Be it a running yellow colour blouse or a contrast colour like red, pink, white, green, etc, each one of the blouses will give a unique look to a yellow saree.
1. Yellow Colour Saree with White Blouse
Yellow sarees are considered very auspicious in Indian culture and hence women wear them at every special occasion. Be it for wedding, or any other festive occasion, wearing yellow is considered very well. Hence if you have tons of yellow sarees in your wardrobe tHen you can consider pairing them with a beautiful white embroidered blouse just like gorgeous celebrity Lakshmi Manchu has done.
2. Yellow Saree with Red Blouse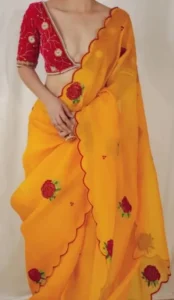 For any festive or worship occasion, yellow and red are considered very auspicious colours. If you have a yellow saree then you can pair it up with a nice red colour blouse and see how beautiful and bright you look.
3. Yellow Saree with Yellow Blouse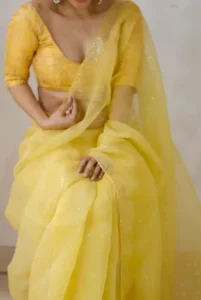 No matter how the new fashion of blouse pattern and designs comes and go but the grace of a running blouse is unmatched. The running or matching blouse that comes along with the saree is the most chosen one by every woman.
Which Blouse Suits for Green Saree
There are so many type of green colours like mehendi green, bottle green, emerald green, parrot green, beat green, etc. There are so many blouse colours that goes well with green saree like maroon, yellow, red, golden, etc.
1. Mehendi Green Saree with Maroon Blouse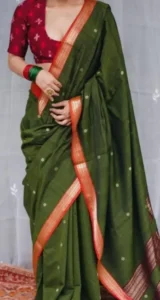 Green colour is very much in trend in Indian ethnic fashion. From emerald green to bottle green, every colour has its own race. Especially mehendi green colour silk sarees looks pretty good when paired with a maroon colour blouse.
2. Green Colour Saree with Blue Blouse
Printed green sarees are worn by women during the festive month of Savan. Try this unique combination of electric blue blouse with green saree and watch out for the number of compliments you receive.
3. Metallic Green Colour Saree with Cream Blouse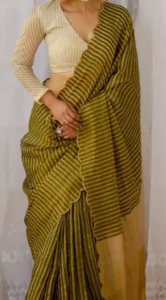 Cream colour blouses are also a great investment, they usually goes well with every colour saree. They are a great choice for a metallic green sari as well.
Which Blouse Suits for Pink Saree
Pink is one such colour that look good in every skin colour and it also represents feminism in some way. Hence, every woman usually have a great collection of all types of pink sarees like dark pink, rani pink, baby pink, etc. Let's check out which colour blouses goes well with pink sarees.
1. Pink Saree with Royal Blue Blouse

If it's a classic Banarasi or Kanjivaram saree then you must try and pair it up with a solid royal blue blouse with a little bit of golden detailing. This is a perfect combination that you can wear to a wedding or festive event.
2. Pink Saree with Pink Blouse
Wearing sarees with contrast blouse is a fashion tats trending these days but wearing a saree with a running blouse is an ever green fashion. Hence wearing a same colour saree with same colour blouse can never go out of fashion
3. Pink Saree with White Halter Neck Blouse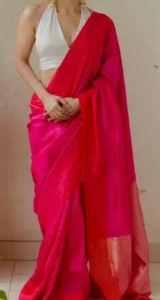 White blouses are also a prized possession, invest in a good quality designer white blouse and you can mix that blouse with almost every colour saree., especially dark colour sarees.
Which Blouse Suits for Blue Saree
Blue is such a soothing colour, most of the women prefer pairing up their blue sarees with contrast blouses like red, green, yellow, pink, etc.
1. Sky Blue Saree with Dark Blue Blouse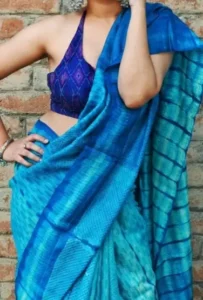 Isn't this a lovely colour combination? The shade of same colour in the light and dark will give a nice finished saree look.
2. Blue Saree with White Blouse
Electric blue sarees looks great on fair skin tones. The race of the sari is increased even more when paired with a stylish white blouse.
3. Blue Saree with Red Blouse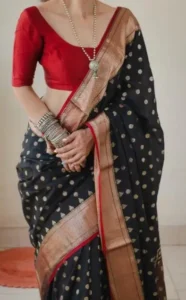 Blue and red is such a classic colour combination. You will look at your best when you style your blue saree with a contrast red colour blouse.