The Sawan(Savan)  month 2023 has already started and women seems to be quite excited to worship Lord Shiva and Mata Parvati. Women love to wear green teej special sarees in sawan or any green colour ethnic outfits for sawan. It is believed that this colour is loved by the Lord Shiva. Below we have shared some of the latest green sarees for sawan that you can wear during the two long months of sawan.
Teej Look in Saree : Hartalika Teej Sarees for 2023
Women love to wear green saree with matching green bangles and do proper solah shringar during the month of Sawan. They celebrate themselves as well and they take rounds in the swings and enjoy this holy month. If you are looking green sarees for haryali teej then you can check out the below given options.
Green Cotton Ruffle Teej Saree Look with Contrast Blouse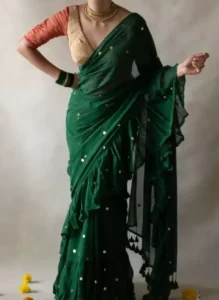 The weather during sawan is majorly of monsoon and hence a lot of humidity is there, this type of cotton saree with stylish ruffle design is perfect as you will feel quite comfortable yet stylish.
Latest Saree for Teej 2023 : Green Kota Doria Saree for Sawan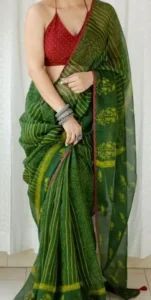 Not every woman loves to flaunt very heavy sarees. Especially the young generation women prefer light weight easy to wear and carry sarees. Such women can check out this stunning kota doria saree with halter neck blouse.
Green Border Saree for Sawan
Those who prefer wearing simple border sarees may check out this lovely saree for teej. You can style this sari with beautiful silver jewellery and create an amazing teej look in saree.
Kanchipuram Silk Green Saree for Teej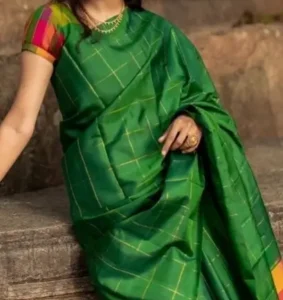 Kanjivaram sarees are every woman's favourite. If you are the one who loves to flaunt only the silks then you can consider wearing something like this for Sawan 2023.
Floral Breezy Summer Saree for Haryali Teej
Those who want a bit hatke hariyali teej dress up may consider opting for this saree. This one have the base colour of beet green and then multicolour floral design.
Handloom Cotton Silk and Tissue Hartalika Teej Saree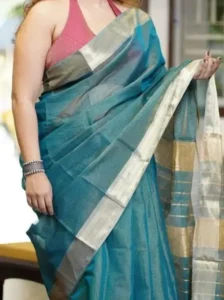 When it's an Indian festival then you should make it a point to wear Indian handlooms only. It gives an immense pride to an Indian flaunting Indian handloom sarees. Here is the one that you can flaunt this festive season.
Linen Cotton Saree for Sawan 2023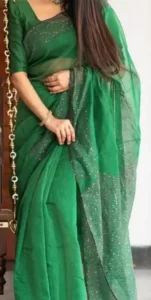 If you want to be the showstopper in teej look in saree then this is the one for you. You can style this saree with a nice choker necklace set and win all the compliments at the Savan celebration.