Well while talking about the latest bridal beauty trends, the first and foremost thing that one should keep in mind is their personal choice. It is not always necessary to follow the trends blindly and then regret later for not feeling comfortable or happy in that particular trend. However, you must always have an eye on the latest bridal makeup and hairstyles trends, so that you can take an inspiration from that and combine the trend with your personal style and create a beautiful look for yourself.
Here we have listed some of the best 2023 beauty trends for would-be-brides so that they can choose the best one for themselves for their big day.
5 Wedding and Beauty Trends that will be a hit in 2023
1. Neutral Shades Nailpaints Against the Glittery Reds and the Golden
Brides prefer the minimalist looks these days and hence deep reds, maroon or any sparkling nail paints are a big NO for them. Instead they prefer simple and neutral shades like a French manicure or pale or white nails. Recently celebs like Alia Bhatt, Mouni Roy have chosen the minimalist nail paint shades for their bridal look.
2. Hair Accessories are Not Just Restricted to Gajra
Since ages we have seen Indian brides in a bun with either mogra gajra or red rose but the times have change and so have the Indian bridal hairstyle trends in 2023. Now brides prefer delicate and minimalist things like small flowers scattered all over the head or simple hair accessories.
3. Finally Matte Lipstick are a Passe and Lip Glosses and Satin Lipsticks are Back in Trend
Bridal make up trend of matte lipstick has ruled for almost a decade but now it's time for the change. Brides are now more comfortable with a sheen lip look, hence they either prefer a transparent lipgloss or a nude sheen lipstick.
4. Unique Headpieces instead of Hair Accessories
Since last few years we have seen heavy jewellery style ornaments that used to be on the braids of the brides but the bridal look is changing now. Now brides lover to have beautiful head pieces on their heads, sometimes such headpiece have attached mangtika along with them as well. You can check out celebs bridal look as actress like Alia Bhatt, Karishma Tanna, Richa Chadha, chose unique hair ornaments for their wedding look.
5. Korean Dewy Glass Finish Skin, Instead of Heavy Matte Base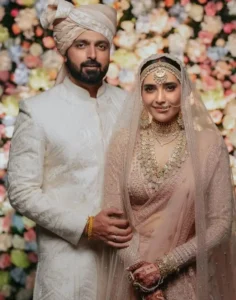 Who doesn't love to have that extra glow on their wedding functions, that's the reason why today's brides love to have dewy glass skin? The heavy matte base make up look that used to last for hours have been replaced with shining, creamy, dewy makeup that makes the bride shine bright.