Weddings in India are a grand event that includes tons of pre and post-wedding functions. If you are soon going to be a bride and have multiple functions including the Reception then here we are to help you with your Reception saree selection. An Indian saree is a classic Reception outfit that can never go out of style. Even the top notch Bollywood celebrity brides like Deepika Padukodne, Anushka Sharma, to Katrina Kaif choose to wear a saree for their Reception. Here is a detail guide on how to choose a Bridal reception saree and get the celebrity bridal looks.
Tips to Choose your Reception Saree : Outfit Option for Post Wedding Festivities
There are a lot of factors that need to be considered before choosing a reception saree. Like what colour to go for or the fabric of the saree and also most importantly the styling of the saree like celebrity bride. If you are confused about how to choose a reception saree then check out the factors before actually buying one.
Consider your Choice and Personal Style
• The first and foremost thing is your personal style, it's not always that you follow a trend blindly without considering your personal style and choice.
• When you choose a reception saree as per your personal style it will compliment you more and you will feel extremely comfortable and confident among the wedding guest.
• It's upto whether you want a traditional or a contemporary reception saree look.
• If you experiment at the last moment with your reception saree and opt for something that is not really your personal style then you might look very uncomfortable and conscious in the entire function.
• Hence, it's always a great option to choose such a saree that matches with your preference and you feel comfortable in it for hours as you have to pose for the photographers and meet so many guests as well.
Traditional Vs Modern Reception Sarees : What to Choose?
Whether you pick your mom's old traditional Banarasi bridal saree as your reception outfit or you opt for a contemporary saree drape, the choice is entirely yours. However there are certain sarees that are evergreen and can be the best choice for your Reception. Check out such saree details below:
• Reception Kanjivaram Sarees for Bride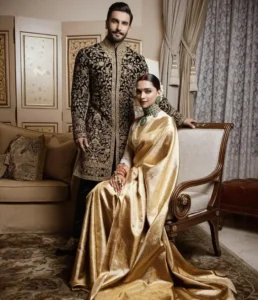 This one is quite popular among the South Indian brides and this saree originates from Kanchipuram, Tamil Nadu. These types of silk sarees are extremely in demand in Indian weddings and reception. These saree comes in bold and vibrant colours, however, with time they are now also produced in pastels colours and shades. These sarees have beautiful paisley patterns, temple designs, peacock designs, etc. with beautiful zari or gold embroidery. Bollywood Actress Deepika Padukodne wore a rich gold kanjivaram saree for Reception styled with emerald jewellery.
• Reception Banarasi Saree for Brides
These rich looking silk sarees have originated from Banaras and are popular for their royal gold and silver work on the silk fabric. Banarasi Reception sarees for brides majorly comes in colours like Rend and Maroon. Anushka Sharma Reception saree was a maroon Banarasi silk saree and she looked drop dead gorgeous. Even Mouni Roy chose to wear a Banarasi saree for Reception look.
• Wedding Reception Kerala Kasauv Sarees for Brides
Kasauv sarees are very popular in Kerala, these are handwoven sarees in cotton or silk fabric in off white colour and golden border.
• Reception Paithani Saree for Bride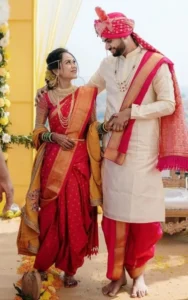 Maharastrian brides mostly wear paithani silk sarees for their weddings or Reception. This type of reception silk sarees has a unique border and pallu with peacock design in it. This saree usually comes in bright colours like red, blue, green, purple, etc.
• Modern Pre Stitched Ready to Wear Sarees for Reception
If you want a bit of hatke look for your reception, a look that's Indian but with a hint of contemporary feel, then you can choose this type of prestictched fusion saree with slit and pockets. This one is prefect for modern brides who like to wear a modern saree for Reception.
• Contemporary Sarees for Reception : Frill, Fringes, and Ruffle Saree
Modern age women love to wear designer concept sarees for Reception. Sarees are made unique by choosing different and innovative draping style and adding western components like fringes, ruffles, and frill.
Tips to Choose the Right Fabric and Colour for your Reception Saree
All the brides should pay special attention on the colour and fabric of the Reception saree. Below we have mentioned the factors that one should consider before choosing their Reception saree colour and fabric.
1. If yours is a day wedding reception then choose pastel hues like peach, baby pink, mint green, aqua, etc. But if it's a night time event then you can go for bold colours like reds, maroons, dark pink and purples.
2. Pay attention to the theme of the wedding reception and choose such saree colour that goes with the colour theme of the event.
3. If the reception is going to take place in India during winter season then you can choose a saree in heavy fabrics like silk and velvet. But if the reception is in summer season then you can choose light and comfortable fabrics like chiffon.