Blouses have the power to enhance the beauty of a simple looking saree as well. The front neck of the blouse gets hidden but the blouse back designs are the main highlight. That's the reason why women always keep on searching for the trending blouse back neck designs. Below we have shared all the latest blouses for saree, have a look:
Trending Blouse Back Neck Design Images
Every year the trend for ethnic fashion keeps on changing. Some styles are forever whereas some changes from season to season. Let's check out all the latest blouse designs that are trending in 2023.
1. Sheer Back with Button Detailing
If you are someone who is not very comfortable in opting for a backless blouse, then you can choose this trending blouse back design. In this style the back is sheer, made of net with button detailing in the middle portion.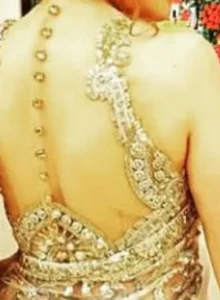 2. Deep "V" Neck
This one is an evergreen blouse back neck design. Those who want a contemporary look may take reference from this blouse design image.
3. Cut Out Back Blouse Design
Want a little peek-a-boo kind of a look?? Well, cut out blouse neck designs are the best. The cut out can be of any shape any size like heart shape, oval, circle, triangle, etc.
4. Tassels Blouse Design
Tassels are going to be in trend forever. Depending on your choice, you can add beautiful tassel designs to your blouse back. If it's a cut out blouse then you can add the tassels at the cut out portion as well.
5. Cut Out Stripes
This one is the latest and most interesting blouse design wherein you can ask your tailor to add multiple cut-out stripes at the back.
6. Just a Hook Blouse
Deep neck blouse with just a hook closure is something that's quite in trend these days. Do give it a try.
7. Bow Back Blouse Design
A nice bow at the back of the blouse will only add wonders to the saree look, don't you think so??
8. Sheer Back With Embossed Patterns and Zip Closure
We already told you that the sheer back neck blouses are in trend add some more creativity to the look and get this type of design.
9. Pearl Studded Back Blouse Neck
Want a royal looking blouse for the year 2023?? Well, check out this stunning blouse.